Twinkle³ are :
Richard Scott : buchla lightning, analogue synthesizer, sampler, processing
David Ross : hawaiian tremoloa, panart hang, kantele, drosscillator
Clive Bell : shakuhachi
from our press release :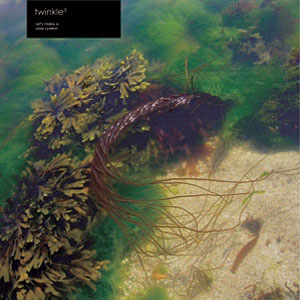 ini.itu is proud to release the first LP composed by Twinkle³. From the first sinuous tones, later augmented by a well-integrated mixture of acoustic instruments ( shakuachi, tremoloa, hang drum ), analog sequencing, processing and buchla lightning infra red wizardry, they sketch a (solar) system of their own, revolving around recurring themes, presented in various dispositions. At times nervous, lively, enthusiastically overactive ( but never frenetic ), evoking curious explorers still firmly rooted in melody and dubby basslines, they have theability to switch off and to glide in an unexpectedly natural manner into more introspective, reflective and soulful moods, even sometimes venturing themselves into darker areas, where a sense of melancholy prevails. A journey from the flowing clear waters depicted in the cover ( picture by Judith Goodman ) to the dark still pool from the flip and back. Even though the comprehension of this album is quite immediate, the astonishing musicality, beauty and complexity of the work allows - and even asks for - repeated listenings. Something to file next to Mouse on Mars' Iahora Tahiti for its freshness, and next to Ornette Coleman's output for its intelligence of interplay, melody and rhythms. The band also cites the great King Sunny Ade, particularly his 70's output, as a real inspiration for this record, notably in the hawaiian guitar department, and in the use of the studio to enhance the spatial dimensions of rhythm.
How to pronounce it ?
[Twinkle Three] or [Twinkle to the powe of three]
How to write it ?
Twinkle³ ( PCs have that touch on the upper left side of the keyboard ! )
Twinkle 3, Twinkle3
"Let's make a solar system"
and especially, where to get it ?